Whats New on Techpacker Version 0.4 : Cotton
---
Today is the special day for Techpacker as 1 year ago, we started working on Techpacker's first Beta Version 0.2: Angora. While looking back, after just a year of development, we're finally ready to release the fourth version: 0.4 called "Cotton". Hell yeah!
Techpacker's latest Version Cotton has touched almost every detail with many features, updates, enhancements and fixes that were made during the last 3 months by our product development team and we are so excited to share it with you and hear your feedback.
What's New on Techpacker version 0.4 : Cotton?
There are a ton of major changes to Techpacker and it's impossible to cover them all in detail here therefore in next few weeks, we will be writing individual blog posts with detailed documentation for each of those changes. So here are some of our favorite highlights:
1. Grading Rules and Specifications
One of the most popular demands on Techpacker, especially from Technical designers and Pattern makers was 'Grading'.
I'm very happy to announce that we have achieved another milestone of not only adding Grading rule tables but we have made it so easy to use that not only the technical designers can now use it, but also with a little know-how, anyone can now input grading rules to their sizes. Below is a quick screen-shot of the grading mode.
2. 'Explore'
We've talked about building an open source product development library since our earliest releases, but never quite found the ideal approach until 3 months ago and since then we've poured hundreds of hours into developing 'Explore'. At Techpacker, we are of firm believer that for fashion Industry to survive, everyone of us should SERIOUSLY consider contributing back to the industry.
Techpacker has therefore collaborated with expert fashion designers, technical designers, product developers and renowned companies such as Alvanon (the global apparel business expert) and Mainetti (global manufacturer of packaging material ) to open up their library and contribute their expertise by creating cards that can easily be Packed by anyone directly on their Tech Packs. What this means is together we will contribute and share our experiences and expertise not only to help the industry but to learn and collaborate with each other to make fashion products : better, faster and together.
You can read more here about 'Why Techpacker wants to bring the idea of building an open source fashion environment and contribute our resources to the community.'
3. Switch faster than ever from Excel to Techpacker
Thanks to our awesome developers for building Copy & Paste function right inside Techpacker, now you can switch faster than ever, by copying the data from excel (Command C) and pasting (Command V) directly into Techpacker's POM (Point of Measurement) or BOM (Bills of Material) tables in the list view.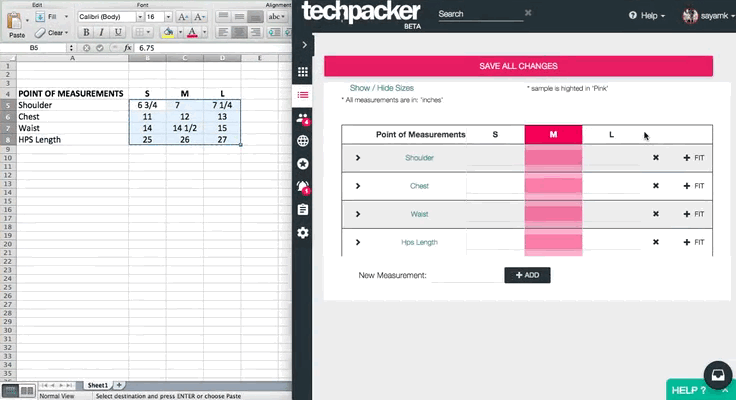 This will save you hell lot of time if you have been working on excel all this while and switch the data to Techpacker.
You can click here to learn more on switching from excel-to-techpacker.
4. Add-Ons
We get a lot of feature requests but there's no way we can fit them all in Techpacker without ruining the simple, core experience we work really hard to maintain. That's why we're happy to announce the launch of Add-Ons.
Add-Ons are the features that you can enable and disable to provide extra functionality. Add-Ons will be disabled by default, keeping your experience as clean as possible. To see all available Add-Ons, click the button in the menu sidebar. From there, you can enable or disable Add-Ons.
There are two add-ons available for launch: grading and explore. Both of these features are discussed above.
5. Folders are Keywords
Few of our users "just can't live without folders", mostly legacy users of PDM and PLM systems. They are used to folders and won't learn new concepts, don't want to change, but are happy spending their time "organizing stuff" and even feel productive doing so.
On the other end, we see extensive use of Keywords by the productivity-oriented, innovative types, who switched to Techpacker exactly for this reason (keywords and cards) and who don't want to go back the "old way". The major benefit of Keywords are that they allow multiple assignments (same tech pack or cards could belong to several keywords such as ('Mens' 'Shirt' 'Holiday' '2016') and
Keywords are more logical and do not involve moving items (from one folder to another).
So we decided to bring the best of both worlds and turn the keywords to perform like folders and at the same time apply the algorithmic smartness to it. The 'keywords' or the new name for it 'folders' will be displayed under the search bar based on the most used 'folders' and once you click on any of the 'folder', it will automatically show it's nested 'folders'.
6. Notification Inbox.
Look for the notification inbox under your username tab. Here you can keep track of your entire comments history and mentions from all your collaborators. When you receive a comment in real-time, a pink alert sign will pop-up on your username tab. Plus you will also receive that comment directly in your regular email inbox too. This is quite helpful especially whenever you're on the go.
To learn more, click here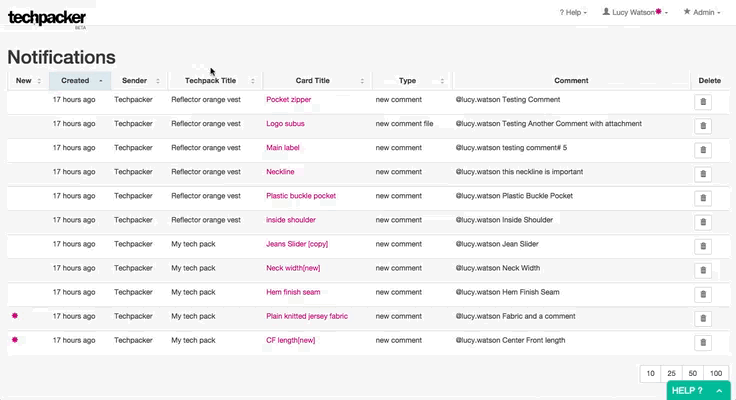 7. Security
We are a believer of Open Source Product Development however we totally respect that your work is your property and it's your hard-work, your bread and butter that you can choose to keep it 'Private'.
So there are 2 very important changes we have made to the security at Techpacker
a. SSL-Certificate Security.
To keep your work secure, Techpacker has increased the security by encrypting the data with an SSL certificate by Internet Security Research Group (ISRG). ISRG is a California public benefit corporation, sponsored by Google Chrome, Mozilla, Cisco, Facebook and many others. This way, your data becomes unreadable to everyone except for our servers. This protects it from hackers and identity thieves.
b. Ultra-secure Images.
We have installed a BANK-Like security. So what that means is - the links to all your images that you have uploaded on Techpacker, will be re-generated after every 15 minutes. This will stop bots from infiltrating into your images and showing it on their websites. In addition, if somehow someone get's your image link by mistake, they will not be able to access it if they try to open.
8. Nĭ Hăo, Techpacker in Chinese.
Techpacker is now available in Traditional and Simplified Chinese! Trusted by hundreds of thousands of users around the world, Techpacker continues to connect seamlessly with trading companies, factories and suppliers without any communication barriers.
To change the language, either change it from Log-In screen or go to your 'Account Setting' from top menu, select your preferred language and 'Update' changes.
---
And tons more! such as: Add new size/color combos inside a card, new user interface with side menu, Archive the tech packs and cards. And many more have also been included.
And that barely scratches the surface of the thousands of lines of codes and changes in v0.4 so far. Plus, we're not even done yet!
Ready to check it out? Then head to the v 0.4 : Cotton
---
Further Documentation Plan :
We are now in the process of developing our documentation. Techpacker has now become stable and is commercially used by more than 3600 fashion brands in 86 countries. Thousands of styles are made every season on Techpacker and shipped into stores.
Although we work hard to maintain simple, core experience at Techpacker so that it's very easy for you to get started and there is no need for any documentation. However if you like to jump to advanced features, it may be useful for you to have a point of reference. Therefore, documentation comes handy. Here's the link to the documentation however keep in mind that it's still work-in-progress. Once it's ready, an alert and notification will also be send to you about this update.
---
We'd love to hear from you with bug reports, questions, and general feedback. Please leave your comments below on the comments section.
---

The author is the CEO at Techpacker. He lives on a boat, walks to work, mediates and enjoy hiking. He graduated from London College of Fashion with product Design Development degree. He has worked as a Product Developer at American Eagle Outfitters, Li & Fung and most recently ran a successful denim trading company Indigod.
---
Related Posts:
17th Feb 2016 : How to Switch from Excel to Techpacker
21st Dec 2015 : How to Manage Tech Pack Comments
16th Dec 2015 : 8 Tools for Fashion and Technical Designers to Use on Techpacker